60's Plus Dining Star Card
The Star Card  is a new type if dining option. It's a
pre-paid punch card for senior adults who desire a more flexible dining schedule and a variety of nutritious
dining choices ...all at a great price!
Anyone aged 60 or better is eligible to use the
Star Card
It's the flexibility you want with the good nutrition you need!  Star Cards may also be used at congregate sites.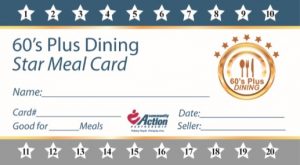 MEAL COST
There are NO INCOME RESTRICTIONS.
The suggested donation for each meal is $4.50
MANY LOCATIONS AVAILABLE
60's Plus Dining Program is located in many locations throughout our 10 county service area. Including Brookings, Codington, Clark, Deuel, Grant, Hamlin, Kingsbury, Lake, Miner, and Moody.
CONVENIENT MEAL OPTIONS
Offering Congregate, Home Delivered, Star Card, and Frozen Meals, there is an option that is right for every person 60 or older.
Current Star Card Locations